Main content starts here, tab to start navigating
Certified Sanitized
As we begin to reopen our dining rooms, we want to let our guests know that Specialty Restaurants Corporation's number one priority is the health and safety of our teams, guests, partners and community. We are implementing new social distancing measures and safety standards across all of our restaurants, while providing an amazing and comfortable dining experience. We also encourage our guests to follow healthy and safety best practices including washing hands often, maintaining social distancing and wearing a face covering when possible.
What we are doing to protect against COVID-19:
Employee Wellness Screenings
All of our team members are screened at the beginning of each shift to check their temperature and ensure they are healthy and symptom-free
Industry-Leading Sanitization Standards
3rd Party Auditors (Underwriter Laboratory (UL) and ECOLAB) will perform regular inspections on SRC restaurants
Employee ServSafe Education
All managers and chefs are Servsafe Certified and all team members have received their ServeSafe Food Handlers cards
ElectroStatic Sanitizing System
We are using the newest technology where the system places an electrical charge on any droplets and sprays the sanitizer for a more comprehensive, even coverage
Safety and Sanitation Coordinator
A team member will be assigned each shift to ensure all Healthy and Safety measures are strictly adhered to
Cleaning and Sanitizing All Surfaces
We continually clean and sanitize our restaurants and high-touch areas using sanitizer that has been validated by the EPA to be effective against COVID-19
Face Coverings
All staff will be required to wear cloth face coverings while working
Contactless Service
New pay-at-the-table devices for seamless transactions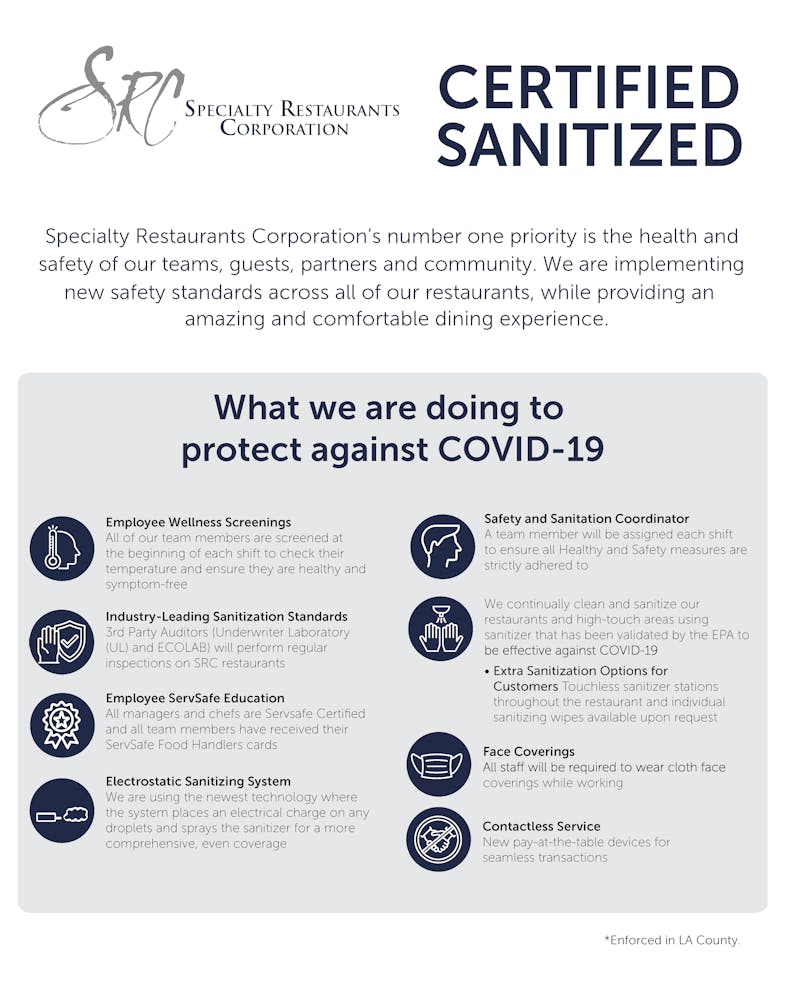 *We have taken enhanced health and safety measures for our Guests and employees. However, an inherent risk of exposure to COVID-19 exists in any public place where people are present. According to the Centers for Disease Control and Prevention, senior citizens and guests with underlying medical conditions are especially vulnerable. By visiting Specialty Restaurants, you voluntarily assume all risks related to exposure to COVID-19. If you are concerned about your health and safety, we encourage you to wait and dine with us another time when you are more comfortable.